Nordic Style Rugs
Nordic Style Rugs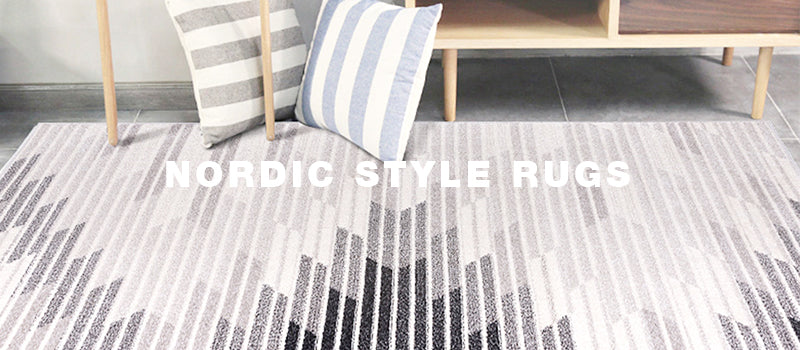 Bring colour and comfort to your by creating a Nordic Style interior.
What is Nordic Design?
Similar to Scandinavian interiors, it creates a welcoming retreat that is uncluttered yet cosy and comfortable. If you are drawn to sleek lines and minimalistic style with a dash of colour, then you will love the Nordic style.
With a focus on Hygge (translates to cosy) Nordic design is welcoming and comforting, providing a place of calm refuge even after the most hectic day. Achieve a cosy atmosphere by decluttering your space for a clean, minimalistic interior, then add inviting layers that bring you contentment. 
Why is Nordic design so hot right now?
Nordic design is here to stay. This curated style focuses on getting back to basics; banishing unnecessary clutter and choosing quality over quantity to bring a calmness to the home
The neutral colour palette gives way to an opportunity to create delicious layers of both colour and texture with the addition of furniture and textile pieces. This style is not only timeless but also adaptable to just about any home.
In what way does Nordic design differ from other designs
Unlike Scandinavian style, Nordic design is warm and functional. While both forms appreciate clean lines and uncluttered aesthetics; a Nordic approach gives you more freedom to add the pieces you love.
Nordic Design is a grown-up version of the Scandinavian design, where the use of quality furniture and rugs are keys aspects of its style.
What Characterises Nordic Style Furniture
Without a doubt, Nordic style furniture is investment pieces, the type you buy once and love forever. Furniture with a mid-century design influence, with clean lines in natural warm timber tones. Lounges in greys and blues are preferred, and leather armchairs score you bonus points.
Furnishing your Nordic interior with rugs and carpets bring warmth and also colour to the room. While the timber flooring is beautiful, it is essential to designate spaces with the use of floor furnishings.

How to decorate Nordic style
Browsing through this blog, you will find that soothing greys and milky whites are shades which are celebrated in Nordic design; Add colour with timber furniture, feature walls and exciting rugs that draw the eye. To achieve a Nordic style for your home follow these principals
Start with a neutral colour palette for your walls and majority of your furniture.
Let the light in; Open your blinds and let the natural sunlight into your home
Declutter your home from unnecessary objects.
Choose natural timber flooring
When buying furniture look for quality pieces that have a simple shaping.
Layer with soft throw rugs, plush cushions and cosy rugs.
Timber floors personify Nordic interiors. Timber gives a home a feeling of warmth yet it creates an open spaciousness. Adding a colourful Moroccan rug will anchor the spaciousness and create cosy rooms that you will love living in. The rug brings a splash of colour to the room while providing warm texture underfoot.
Conclusion
There is a lot to love about Nordic interiors, and the best part is that it is achievable in any home. To achieve a Nordic-inspired space, think like a stylist. Bring in colour, texture and pare back all unnecessary design elements.