Mad for Moroccan Rugs
Mad for Moroccan Rugs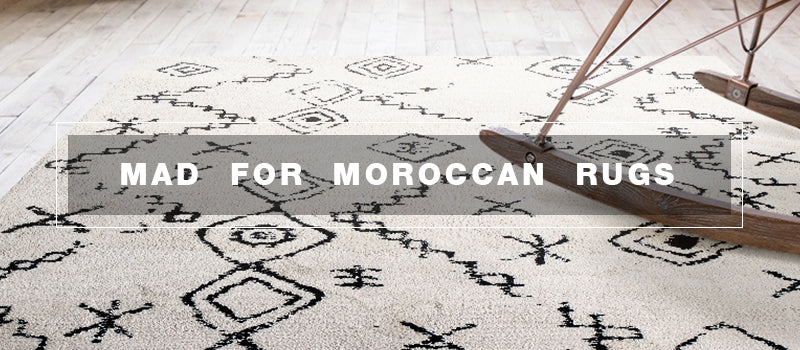 Are you thinking of purchasing a Moroccan rug for your home or workspace? Whether you love Moroccan rug's colour, geometry or plush earthy authenticity, in this article we'll address four key questions that maybe jumping around in your mind to help you select the perfect timeless rug addition for your space.
What is Moroccan tribal pattern?
Traditionally, Moroccan rugs were woven by women, with their patterns varying by region. Different weaving styles tell various stories and myths, from the desert, to the high mountains and cities. Moroccan patterns are generally vary between star-based geometries, honeycomb designs, variations on checkerboards and chevron patterns. More intricate patterns start to interlock and interlace geometry, in expanding and varying tessellations, also reflected in Zellige Moroccan geometric tile-work.
Berber rugs are style of rug woven by the nomadic Berber people. They are usually rich and robust patterns and designs. The patterns in Berber rugs are generally more basic compared to city-based weavers in Fez, Rabat, Tanger and Marrakesh who tend to be influenced by pattern's coming out of other cities such as Turkey and Spain, bringing in more floral patterns, diamond shapes and ornate border work into their designs.
For those who are less pattern inclined, many Moroccan rugs are less about the pattern, and more about subtle transitions between bold colour and texture, making them a great addition to a busy or subtle existing interior design.
How can Moroccan rugs energise and amplify interiors?
The rustic and natural warmth of a Moroccan rug will instantly brighten up a cold or harsh interior and can bring a seasonal pop of colour to an all-white space. Their authenticity and handmade quality really energises and gives personality to many of today's seemingly synthetic interiors.
There is a wide range of colours and shades available within Moroccan rug design, from monochromes to brightsand natural to highly colour saturated pieces. Meaning Moroccan rugs not only work in white and neutral rooms, but can also amplify and pull together already visually busy rooms, adding a unifying element of calm luxury.
What are some ideas for Moroccan style bedroom decor?
Moroccan rugs traditionally were not only used as rugs but also as bedding, seating, blankets and mattresses. Meaning your new piece does not always have to reside on the floor, but can be used at the end of a bed, as a wall hanging, over an ottoman or seat etc.

In addition to a rug, think about other elements of bedroom decor which can tie together your new Moroccan style, such as colorful bohemian throw pillows over a neutral or richly coloured  bedspread, exotic hanging lamps and lighting fixtures which incorporate geometric or tribal style patterns, and exuberant or textured drapery. When picking out fabrics, consider soft, thick and luxurious fabrics with rich saturated colours, rather than pastel or washed out tones. Consider appliquéd lines with border details to add to the rich luxurious look, as well as, pillowcases with geometric motifs and accent lines.
For more exotic looks start to look out for carved wooden elements to use in your room, or ornately decorated mirror frames with detailed grill patterns. These detailed patterns could also be incorporated in ornate headboards or around window and door frames. Focus on patterns, which are carved out of wood or pressed metal with geometry and lines, rather than floral or leafy motifs.

Arched windows are synonymous with Moroccan design. To bring the arches into your existing bedroom decor, layer curtains over existing rectangular windows to develop an arched profile. Hanging fabrics and rugs from the ceiling or walls is also very popular, particularly around the bed and bed frame. A Moroccan rug can be used in place of a traditional bed headboard, softening the room.
Where is the best place to buy a quality and unique Moroccan rug online at an affordable price?
For excellent quality, service and a 10% discount check out Rug Australia (https://www.rugaustralia.com.au/collections/morrocan). Australia's most affordable rugs to achieve that exotic look you've been dreaming of.
There is a wide range of Moroccan rugs available online from traditional vintage pieces to contemporary knock-offs. Spend some time researching before purchasing to determine the authenticity and level of quality you are looking for. Rug Australia has a beautiful selection to investigate online (https://www.rugaustralia.com.au/collections/morrocan), with great photographs and prices.