Blogs
Blogs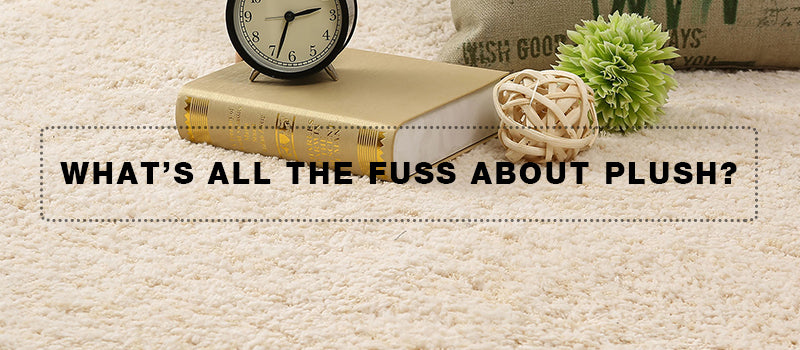 What's All The Fuss about Plush?
What is a Shaggy Rug?
Does the title 'shaggy rugs' give you nasty shivers and flashbacks to the 60s and 70s? Images of lime green and pale pink interiors with busy wallpaper and endless shag? Luckily, millennials have no recollection of that era and shaggy rugs are back with a vengeance. They are new, improved, fresh, and a perfect way to bring plus warmth and colour to your home or office. 
Shaggy rugs get their name because of their appearance rather than due to a particular material, culture or style. They are generally long pile rugs or carpets, thus look shaggy. Their materials range from natural fibres such as wools, cottons and leathers, to synthetics including polyester, polypropylene and nylon.
The Various Kinds of Shaggy Rugs
Any long pile rug can fit into the shaggy category. At the moment Australian and New Zealand sheepskins are extremely popular and are also considered to be part of the shaggy rug category. Shaggy rugs maybe hand-woven, hand-knotted or more durable machined rugs.
If you are worried about excess shedding when purchasing your rug, it's important to know the difference between continuous versus staple fibre rugs. Continuous fibre rugs are generally more expensive as they are more difficult to make but mean that the fibres are less likely to pull out compared to staple fibre rugs where each hair is separate. Staple fibre rugs are a lot more prone to creating excess fuzz. Modern synthetic machine made rugs generally shed less.
How to Make Your Home Attractive Using Shaggy Rugs & Carpets?
Shaggy rugs are a great way to bring warmth and depth to a cold space. They are most popular in living rooms and bedrooms, as focal pieces that tie together the furnishings in a room but are also great as long runners in hallways and in dens, libraries or retreat spaces. Solid colour shag rugs bring softness to a room and often help offset chrome, metallic or wrought-iron furniture. In the bedroom, shag rugs work really well under bed frames to stop them from scratching the floor and provide warmth underfoot when you first step out of bed.
How to Deal With a Shedding Shag Rug?
Constant shedding can be one of the biggest turn-offs when it comes to high pile rugs. How do you stop it or keep your rug under control? There are a number of solutions. Firstly, rug grooming! It may sound bizarre but small rug rakes (similar to dog brushes) can be purchased online and at many rug stores, and are a great way to keep shedding under control. Secondly, rug pads, not only make your rug softer underfoot but also soften the impact when the rug gets stepped on leading to a lot less shedding. Finally, make sure you are vacuuming your rug in the correct direction (with the grain of the pile) and not using heavy brush attachments that may pull further hairs out of the rug.
What is the Best Way to Clean a Shaggy Rug?
Cleaning a shag rug may seem slightly intimidating, however it's actually quite easy and well worth the effort for that lush feeling underfoot, and warmth compared to a cold hard floor. There are four steps to take depending on how dirty your rug is; loosening dirt, vacuuming, dry shampooing and steam cleaning. Firstly to loosen the dirt take the rug outside and let it air over a railing or washing line, hit the rug with the handle of a broom or mop to let trapped dirt and dust escape. How often you vacuum your shag rug depends on whether or not it is in a highly trafficked area, if pets sleep or roll on it etc. When vacuuming set the vacuum to high-pile and carefully suction out the dirt, also when possible flip the rug over and vacuum the underside to remove additional dust.
For a very fresh rug invest in some dry shampoo and treat your rug a couple of times a year. Sprinkle it over the rug, work the granules around with the vacuum head, leave them to sit per the shampoo's instructions, maybe up to an hour, then thoroughly vacuum them out of the rug. For rugs with serious staining, steam cleaning may be the best solution. Steam cleaning machines can be rented, and are getting cheaper and cheaper to purchase your own in stores. Use hot tap water to steam, and non-foaming detergent depending on the severity of the marks. Dry the rug by hanging it outside, or using a fan to get the air moving around it.
Finally for a small accidental spill, use a wet rag or paper towel with warm water and detergent to sponge out the stain, slowly dab and soak up the stained area repeatedly until the rug is clean. A great way to spot dry your rug is to fold up a face cloth put it over the rug and stomp on it to soak up any excess water.
Where to buy shaggy Rugs in Australia with discounts?
Whether you are looking for a solid colour shaggy rug, or lush sheepskin, Rug Australia online is an excellent place to start your search(https://rugaustralia.myshopify.com). They have a great range of high-quality pieces and excellent customer service. Don't wait, warm up your house with a beautiful rug for the new year.